How I Work
Every relationship is different and therefore it is good to get an idea of how ours might work.
My intention in a counselling relationship is to provide a warm, empathic environment in which we can establish a safe space in which to explore issues that are preventing us from leading a more fulfilling life.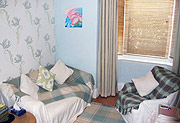 I bring to my work a great deal of life experience and seek to meet my clients with warmth and compassion borne out of my own extensive therapeutic experience, working from a peaceful and confidential room in my own home.

As a qualified counsellor, my orientation being predominantly humanistic, I offer my clients the opportunity to experience a relationship which provides support and encouragement whilst exploring ways to facilitate psychological health and growth.






Get advice from
The BACP
about choosing a counsellor.
Things To Think About When Choosing A Counsellor
When choosing a counsellor it is important to consider whether you would feel more comfortable discussing personal issues with a male or female counsellor. Ensure the counsellor is qualified, and has the relevant training and experience to meet your specific needs to ensure you receive a professional level of support.

Also, enquire about the counsellor's area of speciality – this may be relationship counselling, bereavement, parenting, abuse and addictions or other areas – and their approach to counselling, (e.g. humanistic, CBT, etc) to make sure you feel comfortable opening up and expressing emotions in the counselling environment. Ask lots of questions, before embarking on a counselling relationship to help build rapport with your counsellor.